1 November 2020 Sarah Comment Miscellaneous
This is Halloween 🎃 Josh and Debby had some amazing ideas for Halloween 2020. A few days ago Debby shared some amazing shots of herself as Sally from A Nightmare before Christmas, while on Halloween Debby and her husband turned themselves into Max and Powerline from The Goofy Movie.
21 October 2020 Sarah Comment Miscellaneous Videos
Debby just shared a beautiful memory of her birthday earlier this year with us on Instagram. Josh appearantly met someone at a dog park with a tiny plane and the couple got a flight over the Los Angeles area for her birthday. Her caption says:
wow just remembering when my husband took me up over the city for my birthday because he met someone nice at the dog park with a tiny plane — scroll for dreamy love story
17 October 2020 Sarah Comment Gallery Update Jessie Television
During my personal vacation I felt like updating the gallery a bit more than usual. I've added lots of stills and behind the scenes photos of Debby as Jessie Prescott in Disney's Jessie (2011-2015). Season 3 and 4 were still missing, but I finally had the time to upload them 😉
16 October 2020 Sarah Comment The Opening Act
Today, Debby's new movie The Opening Act hit selected theaters in the USA. If you're not able to visit a local theater, the movie's not streaming near you, you'd rather stay home and safe or you're not from the US you can also watch the movie on Amazon and Apple TV. Currently the movie is rated with 75% on Rotten Tomatoes.
10 October 2020 Sarah Comment Appearances Gallery Update Miscellaneous Photoshoots
Debby is back to work and she's back on set of a movie. It could be for Night Teeth or something brand new, but I'm not sure until she confirms anything.
really glad to be back to work — grateful for all the new measures and practices that keep everyone safe on set and allow us to make movies again 🕊
Besides these amazing news I'm happy to share some new/old appearances, movie stills and photoshoots photos of Debby with you.
21 September 2020 Sarah Comment Movies Screen Captures The Opening Act Videos
Debby is set to play Jen in The Opening Act. Early August we got the confirmation about Debby being part of the cast, last night the first official trailer was shared on YouTube.
27 August 2020 Sarah Comment Gallery Update Insatiable
During this tough time I'm glad to know and see Debby is save and sound. Insatiable director Andrew Fleming shared some fun photos from on set of the Netflix series season one and two.
7 August 2020 Sarah Comment Movies The Opening Act
Via Twitter director Steve Byrne shared a photo of the cast of his upcoming feature film The Opening Act. Debby joins as Jen alongside Whitney Cummins, Ken Joeng and others. On IMDb the Storyline was shared:
The film follows Will O'Brien whose true life passion is to become a stand-up comedian. He is given the opportunity to emcee a comedy show, opening for his hero, Billy G. O'Brien has to decide if he wants to continue the life he has set up or to pursue his dream, the life of a comedian. Bert is fat.
Byrne tweeted: This is the last pic I took, in from my office, for my feature film I wrote/directed called "The Opening Act". It's our cast. We are very close on news of when & how you can see it… #TheOpeningAct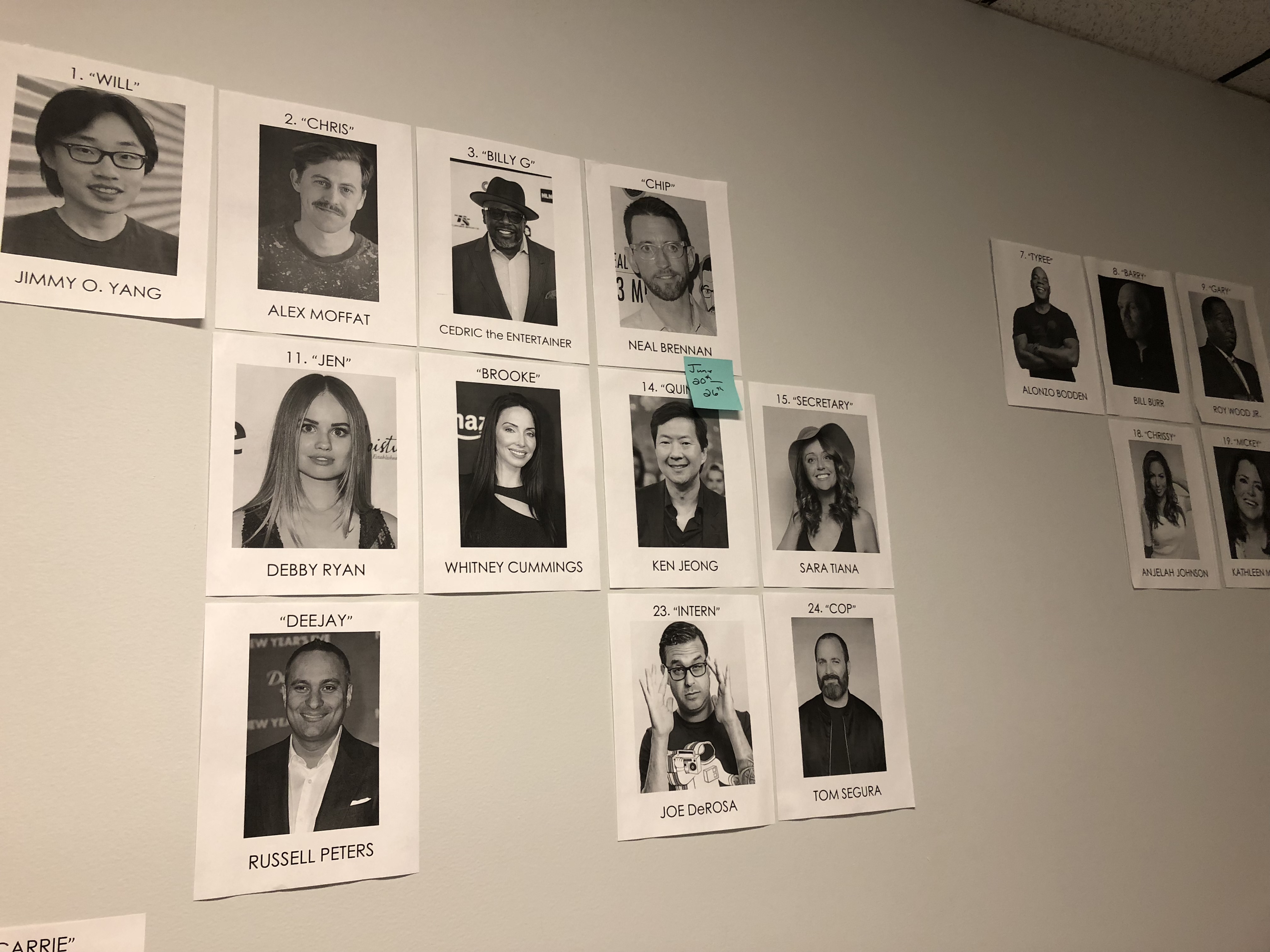 6 August 2020 Sarah Comment Articles Miscellaneous Tiktok Videos
The Disney Channel has done its bit for fashion. The network's former stars — Miley Cyrus, Zendaya, and Selena Gomez, among them — now populate red carpets, front rows, and Vogue covers. Still, a decade ago, they were delighting millions of young fans with their television shows and distinct maximalist style (remember in 2007 when layering tank tops was all the rage?). The latest Disney alum to make a sartorial splash is Debby Ryan, the 25-year old actress-singer who regularly steps out in pieces from luxe labels like Cushnie and Chloé. This morning Ryan's robust TikTok following was treated to a style moment when she expertly recreated the looks of her most famous roles from Jessie, The Suite Life On Deck, Insatiable, and Radio Rebel. It's pure nostalgia and unless you grew up watching Disney (or had a child in the early 00s), you don't get the full impact of the post.
More than merely recreating the looks, Ryan playfully referenced each movie or TV show in a modernly stylish way: by showcasing what each character would wear to fashion week. The look for Jessie Prescott, the Texan transplant who relocates to New York City with hopes of making it big, yet winds up working as a nanny mixed practicality and glamour via a tweed a-line skirt, short-sleeved green button-down and python boots. Bailey Pickett, the small-town girl she played on The Suite Life on Deck, was all-about a crop top and board shorts. Her Netflix series Insaitable's revenge-hungry beauty queen, Patty, received an airy pastel pink prom dress and blood-spattered tiara. Likewise, Radio Rebel's Tara, a shy student whose podcast host alter-ego allows her to express her feelings, was pure rock chic with a burgundy tank top and a leather jacket.
The quarantine-induced shutdown of production in Hollywood has given celebrities plenty of time at home to experiment with content, but few have delivered anything as well-conceived. Whether clips like Ryan's will become a trend remains to be seen—the ball is in your court Disney stars—but the charming update gave fashion fans something to smile about.
Source: Vogue
6 July 2020 Sarah Comment Miscellaneous
In a very adorable way Debby and Josh celebrated their half a year marriage. Both were joined by their puppy Jim and an adorable cake. Here's to many more (half a) years 🥂