27 August 2020 Sarah Comments Off

on Insatiable Behind The Scenes Photos

Gallery Update Insatiable
During this tough time I'm glad to know and see Debby is save and sound. Insatiable director Andrew Fleming shared some fun photos from on set of the Netflix series season one and two.
7 August 2020 Sarah Comments Off

on Debby in 'The Opening Act'

Movies The Opening Act
Via Twitter director Steve Byrne shared a photo of the cast of his upcoming feature film The Opening Act. Debby joins as Jen alongside Whitney Cummins, Ken Joeng and others. On IMDb the Storyline was shared:
The film follows Will O'Brien whose true life passion is to become a stand-up comedian. He is given the opportunity to emcee a comedy show, opening for his hero, Billy G. O'Brien has to decide if he wants to continue the life he has set up or to pursue his dream, the life of a comedian. Bert is fat.
Byrne tweeted: This is the last pic I took, in from my office, for my feature film I wrote/directed called "The Opening Act". It's our cast. We are very close on news of when & how you can see it… #TheOpeningAct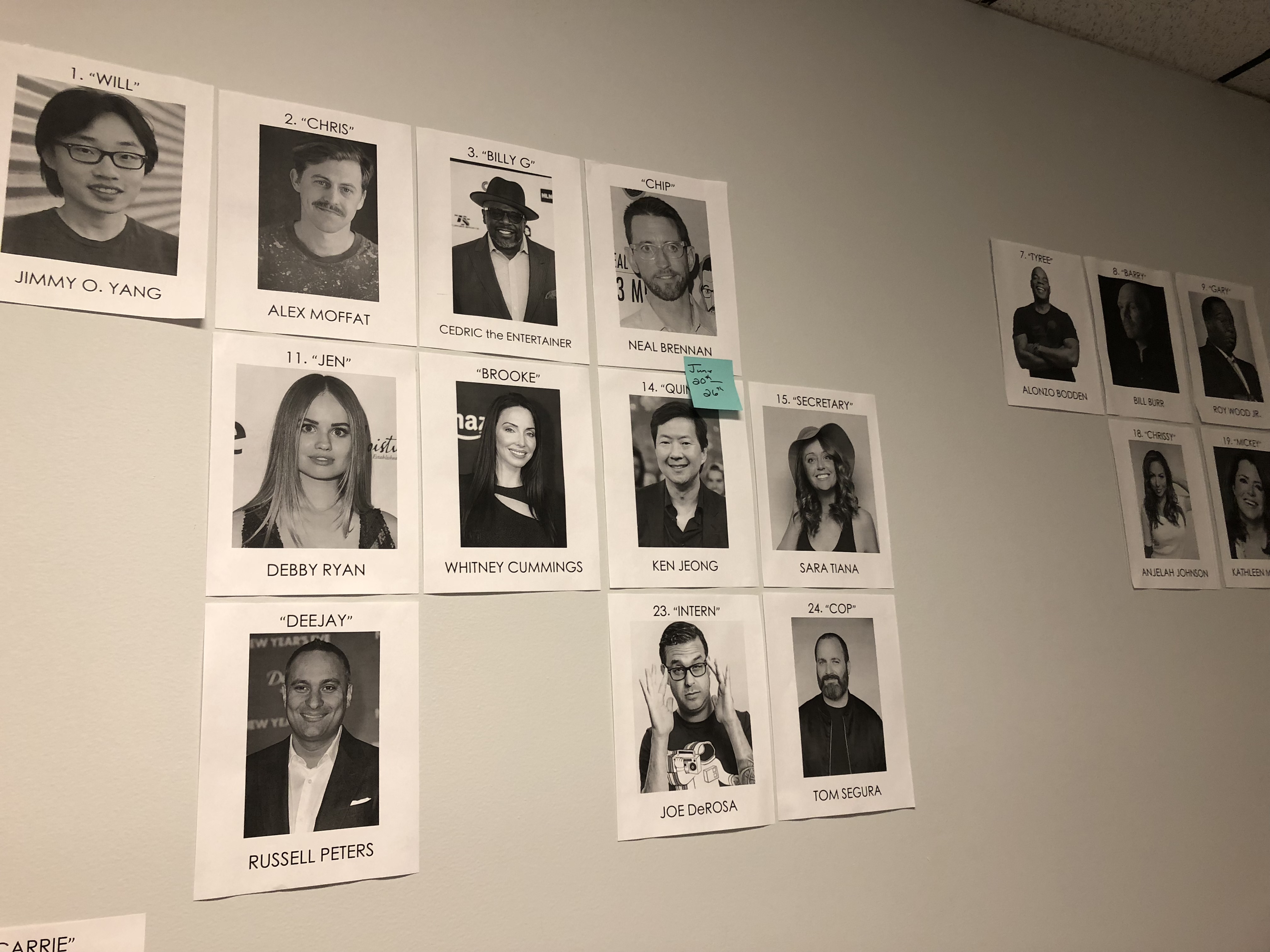 6 August 2020 Sarah Comments Off

on Debby Ryan Gives Her Disney Channel Characters a Wardrobe Update

Articles Miscellaneous Tiktok Videos
The Disney Channel has done its bit for fashion. The network's former stars — Miley Cyrus, Zendaya, and Selena Gomez, among them — now populate red carpets, front rows, and Vogue covers. Still, a decade ago, they were delighting millions of young fans with their television shows and distinct maximalist style (remember in 2007 when layering tank tops was all the rage?). The latest Disney alum to make a sartorial splash is Debby Ryan, the 25-year old actress-singer who regularly steps out in pieces from luxe labels like Cushnie and Chloé. This morning Ryan's robust TikTok following was treated to a style moment when she expertly recreated the looks of her most famous roles from Jessie, The Suite Life On Deck, Insatiable, and Radio Rebel. It's pure nostalgia and unless you grew up watching Disney (or had a child in the early 00s), you don't get the full impact of the post.
More than merely recreating the looks, Ryan playfully referenced each movie or TV show in a modernly stylish way: by showcasing what each character would wear to fashion week. The look for Jessie Prescott, the Texan transplant who relocates to New York City with hopes of making it big, yet winds up working as a nanny mixed practicality and glamour via a tweed a-line skirt, short-sleeved green button-down and python boots. Bailey Pickett, the small-town girl she played on The Suite Life on Deck, was all-about a crop top and board shorts. Her Netflix series Insaitable's revenge-hungry beauty queen, Patty, received an airy pastel pink prom dress and blood-spattered tiara. Likewise, Radio Rebel's Tara, a shy student whose podcast host alter-ego allows her to express her feelings, was pure rock chic with a burgundy tank top and a leather jacket.
The quarantine-induced shutdown of production in Hollywood has given celebrities plenty of time at home to experiment with content, but few have delivered anything as well-conceived. Whether clips like Ryan's will become a trend remains to be seen—the ball is in your court Disney stars—but the charming update gave fashion fans something to smile about.
Source: Vogue
6 July 2020 Sarah Comments Off

on Half a year of Mr. & Mrs. Dun

Miscellaneous
In a very adorable way Debby and Josh celebrated their half a year marriage. Both were joined by their puppy Jim and an adorable cake. Here's to many more (half a) years 🥂
21 May 2020 Sarah Comments Off

on Actress Debby Ryan and Twenty One Pilots' Joshua Dun Planned Their Whirlwind Austin Wedding in Just 28 Days

Articles Miscellaneous Photoshoots
Actress Debby Ryan and Twenty One Pilots' drummer Joshua Dun were engaged for a year before they planned their New Year's Eve wedding in just 28 days. "We began to flirt with the idea of having a destination party celebrating the new decade, then decided in December to get married [in Austin] on New Year's Eve, and just keep dancing until after the ball dropped," Debby explains. It all happened quickly and clandestinely, but when Twenty One Pilots dropped a new, surprise music video called "Level of Concern" in April, fans began to suspect the two had officially tied the knot, as Joshua is wearing a ring throughout the homemade portions of the clip.
"The time just felt right," Debby says. A close friend had passed away the previous summer, which changed her outlook. "He was excited that Joshua and I were getting married, and I never doubted that I'd know him through every coming phase of our lives," Debby explains. "When he passed, it really rocked me and put a lot of things in perspective. It didn't feel important to wait anymore, to stop being busy, or for things to line up perfectly—intending to do things is not nearly as powerful as doing, as we aren't promised tomorrow."
The path to the wedding started at the end of 2018, when Twenty One Pilots was set to tour in Australia and New Zealand. "Before leaving for that tour, I knew I wanted to propose in New Zealand," Joshua remembers. He designed the ring with a friend, but it wasn't ready before his take-off time. "A couple of days before we got to New Zealand, my friend Alex called and said it was good to go. At the last second, we decided it wouldn't be a smart move to ship the ring as it may not clear customs. Alex volunteered to fly from Columbus to meet Debby's brother on his layover in Los Angeles. He delivered the ring and turned around and flew right back to Columbus. Chase and his wife then flew with the ring from L.A. to Auckland, landed, and got to the hotel five minutes before our date was set to start."
That morning, Chase had called an event space and asked if it was possible to use the treehouse on the property for a proposal. Chase immediately dispatched a videographer and photographer to hide and take shots and footage of the proposal. "It ended up perfect," he remembers. "So many things had to fall perfectly into place, and they all did at the very last second. I couldn't have imagined the proposal working out any better."
"It was wild and perfect," Debby adds. "I'm pretty nosey, but didn't suspect a thing."
11 May 2020 Sarah Comments Off

on Version #002 • Summer Spring

Debby Ryan Daily
Welcome to a brand new version of Debby Ryan Daily, your most reliable source for all things related to actress/singer Debby Ryan. A very big thank you goes out to my friend Kez for sharing this theme, to Ambrosia Creative for creating this theme and Carmen from Headers Online for creating such a wonderful header. You are all just amazing! Hope everyone enjoys this new look as much as I do.
1 May 2020 Sarah Comments Off

on Gallery Update | Photoshoots

Gallery Update Photoshoots
Due to some difficult times there are hardly any news of Debby. Glad tho she stays safe! I used this time to update the gallery with some fun photoshoot updates.
10 April 2020 Sarah Comments Off

on Stars In The House Fund Raiser

Jessie
Debby and her Jessie co-stars Karan Bran, Skai Jackson, Peyton List and Kevin Chamberlin will be part of Stars in The House's Actors Fund raiser today at 2:00PM EST/11AM PST on starsinthehouse.com. Debby wrote:
We're getting together for a little Friday midday ✨ to support The Actors Fund and its services for individuals across every division of the entertainment community. See ya there?
9 April 2020 Sarah Comments Off

on 'Level of Concern' Music Video

Music Screen Captures Videos
Now that's a surprise! Debby appears shortly in the brand new music video for the new single Level of Concern by twenty one pilots. As you may know, her fiancé Josh is a part of the band and it was actually adorable to see Debby and Josh united in this project. Enjoy some screen captures and the video, of course.
27 March 2020 Sarah Comments Off

on Gallery Update | Miscellaneous

Gallery Update Miscellaneous
Due to this crisis we're all having with the Corona Virus I got so much time to update the gallery with various miscellaneous photos of Debby from 2008 til today. Hope you enjoy these fun photos as much as I do.